Sign up for my Newsletter!
Hello!  I am Julia Graves and I have been sewing since I was ten. I have always loved fabric and sewing and needle arts in general and the whole creative process!
I did my apprenticeship as a quilter by making a quilt for each of my
nieces and nephews
(I should have counted them all before I made this promise to them – there were 35!).  They got to choose their colors, so I greatly expanded my repertoire of color schemes!
Since then, I have made many quilts for special people, incorporating various ways to let them know how much they were cared for.  I especially enjoy color and incorporate information on color into as many classes as I can.  A highlight of my career so far has been as
Artist in Residence
at
Empty Spools Seminars
at Asilomar CA in 2019 and I've been teaching there since 2022. 
Artist Statement
I am intrigued by the interaction of color, line and pattern and enjoy creating movement, drama and depth in my quilts.  I try to incorporate my faith into the quilts I make and donate a lot of quilts to charity.  I am particularly drawn to scrap quilts and color arranged in rainbow order.  
Why Special Occasion Quilts?
From these experiences, I decided to start Special Occasion Quilts, LLC so that I could help others create a one-of-a-kind expression of their caring. Each Special Occasion quilt is designed and created to express the essence of the recipient and the love in the relationships. It is a great joy to see how touched people are when they receive something crafted specially for them.
Why did I Start Quilting for Others?
As soon as people heard I had a longarm and saw my work at guild meetings, they started asking me to quilt for them.  I started taking classes and found that I loved the creative aspect of stitching the quilt together. While I also do all over quilting and heirloom quilting, my sweet spot is light to moderate custom quilting.  I like to follow the piecing and create designs that bring out the beauty of the quilt at an affordable price.
What Kind of Longarm Training have I Had?
I keep up with the latest trends and techniques in quilting.  My training includes:
Private classes with Karen McTavish in Heirloom Quilting, Trapunto and McTavishing
Hands on classes with Margaret Soloman Gunn, Myrna Ficken and Linda Taylor
Design classes with Lisa Calle and Gina Perkins
Demo classes with Bethanne Nemesh, DeLoa Jones, Sue Patten, Sally Terry, Gina Perkins,

Sharon Schamber,

Jamie Wallen and Dawn Cavanaugh
APQS Factory maintenance training and Certified Technician
Why Did I Become an APQS Dealer?
I had several people rent my APQS longarm machine and decide they too wanted to own the best longarm in the world…  So I decided to become an APQS dealer.  I can help you decide which model is best for you and teach you how to operate and maintain it.  My husband and I are both APQS factory trained Certified Technicians and do service calls throughout Delaware, Pennsylvania, Virginia, West Virginia and Maryland.
Why did I start Teaching?
I love to talk about quilting and share my enthusiasm and knowledge with others.  I strive for a fun, informative and supportive classroom environment that enhances and celebrates the creativity in all of us.
What is my Art Quilting Experience?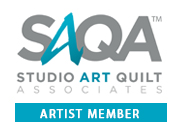 I really enjoy art quilting and have taken classes with many amazing instructors, including
Esterita Austin,
Sue Benner, Susan Carlson,
Lenore Crawford,
Meri Enrique-Vahl, 
Patty Hawkins,
Ursula Kern, Gloria Loughman,
Ruth McDowell,
Katie Pasquini Masopust,
Vicki Pignatelli,
Jane Sassaman and Joen Wolfrom.  I'm a member of Studio Art Quilt Associates (SAQA).
What is my Quilting Involvement?
I am a member of the following guilds:
I am located in Leesburg Virginia.
  See
Contact Us page
for location and directions.
Customer testimonials

Sharon P. (custom quilt) – Julia surpassed all my expectations!  My daughter's t-shirt quilt is beautiful and beautifully quilted.

 

Claire C. (custom quilt)  – Julia did an amazing job – the quilt was just perfect for my son!

 

 

 

Carmie S. (custom quilting) – I love the detail – the quilting tied in with the "4 houses" on the quilt

 

Pat J. (longarm student) – Julia has a very soothing and calming voice and she helped me a lot during the class.

 

Fern B (custom quilting) – The quilt is gorgeous!  You did a fabulous job.  The designs you selected are perfect for the quilt.